106.9FM Y107 #1 Hit Music Station
FORMAT
Top 40 106.9FM Y107 is exclusive in Central Missouri. There is a carefully selected mix of current and recent hits. The music is so popular it makes up over half of all record sales in Central Missouri. Music is the forefront on Y107, complemented by strong personalities and on air promotions.
The Y107 music format combined with our limited commercial policy promotes listener loyalty. Y107 air personalities are fun, putting listener interaction in the forefront, while sharing the latest in music and pop culture information. Cosmo and the Y107 Morning Show wakes up Mid-Missouri every morning from 5a-10a. Take it Old School with the Throwback lunch from 11:30a-1p. Ryan Seacrest airs from 10:00am-2:00pm, and Carson takes the controls from 2:00pm through the drive home. Wrap the evening with Destiny, weeknights from 7p-Midnight.
FREQUENCY/POWER
Y107, at 100,000 watts, reaches more listeners than any other radio station; with coverage of over 25 counties in Central Missouri including Jefferson City, Columbia, and Lake of the Ozarks.
AUDIENCE
65.7% Female, 34.3% Male
Age 18-44: 66.1%
Household Income Over 50K: 57.8%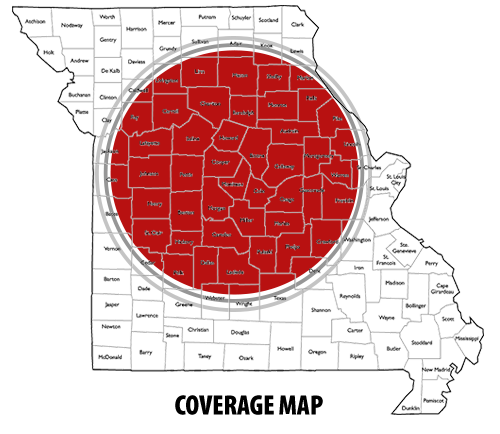 Central Missouri Counties
Y107's On-Air Personalities
Weekday On Air Schedule and Personalities
Weekend On Air Schedule and Personalities
Y107's Community Involvement
Tigers On The Prowl – Event

Boys And Girls Club – Chili Cook-off/Summer Kids Branding Campaign
Y107's Accolades and Awards
2018 NABEF Service to Community – Small Market Radio Winner

2018 Marconi CHR Station of the Year Finalist

2018 MBA Public Service Announcement or Campaign Winner – Stealing Back Christmas

2017 Marconi Personality of the Year, Cosmo, Finalist
2017 MBA Best Website of the Year

2016 Marconi CHR Station of the Year

2015 MBA Best Website, Medium Market

2013 NAB Crystal Award, Finalist
We're in business to help your business grow.
Our efforts are focused on developing ourselves through training and coaching. We accomplish this through an environment where exceeding company standards, continual improvement, initiative and innovation are recognized and rewarded.
When looking to update and do a complete face lift of my web site I looked to Stacey and the guys at Zimmer to lead me into the FUTURE.
Working with folks at Zimmer has helped be grow my company to where I wanted. Carrie was great with helping find the correct radio station for my target client. They allowed me to reach my goals faster than I ever dreamed.