KTGR – ESPN Radio
FORMAT

Columbia's exclusive station for sports talk 24 hours a day, 7 days a week. KTGR is an affiliate of ESPN Radio, bringing "the Worldwide Leader" in Sports to Boone County and Central Missouri. KTGR is also your home for the best coverage of the local, regional and national sports scene.
KTGR 100.5 FM – 105.1FM – 1580 AM ESPN is Columbia's only all sports radio station. Mike & Mike are the morning show hosts, on from 5:00 to 9:00am. Dan LeBatard and Stugotz take their unique look at sports from 9:00am – 12 noon. Ryen Russillo is on the air from noon – 2:00pm, followed by the Paul Finebaum Show with SEC-centered sports talk from 2:00 to 4:00. The Big Show with Matt Michaels and Jeff Parles drives you home from 4p to 6p and is your chance to call in and talk local sports every weekday on Mid-Missouri's original all-sports talk show. Saturday morning, wake up with The Sports Wire hosted by Jeff Parles.
KTGR 100.5 FM – 1580 AM ESPN is the flagship station for Mizzou Tiger Sports. You will hear Mizzou Football, Basketball and Baseball! KTGR is also your local home for the St. Louis Cardinals. KTGR covers the local high school sports scenes, and carries award-winning play-by-play coverage of Columbia Public Schools football and basketball. 
FREQUENCY/POWER
KTGR reaches over 15 Central/Mid Missouri Counties including the cities of Columbia and Jefferson City.
AUDIENCE
15.4% Female, 84.6% Male
Age 25-64: 82.1%
Household Income Over 50K: 79%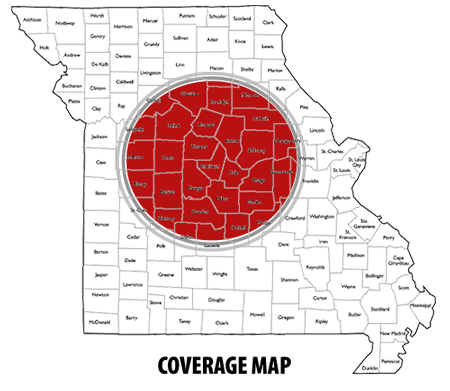 Central Missouri Counties
KTGR's On-Air Personalities
Weekday On Air Schedule and Personalities
Weekend On Air Schedule and Personalities
KTGR's Community Involvement
American Cancer Society – Golf Tournament
Big Brothers, Big Sisters Bowling

Boys and Girls Club Cook-off/Coaches Dinner
We're in business to help your business grow.
Our efforts are focused on developing ourselves through training and coaching. We accomplish this through an environment where exceeding company standards, continual improvement, initiative and innovation are recognized and rewarded.
When looking to update and do a complete face lift of my web site I looked to Stacey and the guys at Zimmer to lead me into the FUTURE.
Radio advertising had made such a tremendous difference in our business. Zimmer has an all-star team who is completely on target with our needs. They attend every meeting with purpose and with the intention of seeing our business grow. The attitude and devotion they show our business is unmatched and they are genuinely thrilled by our accomplishments.
Working with folks at Zimmer has helped be grow my company to where I wanted. Carrie was great with helping find the correct radio station for my target client. They allowed me to reach my goals faster than I ever dreamed.
There were hundreds of attendee's from across the country. Many came up to Don afterwards and asked how we found the time to manage a really nice website, Facebook and Twitter. Don smiled and said, 'We know people'