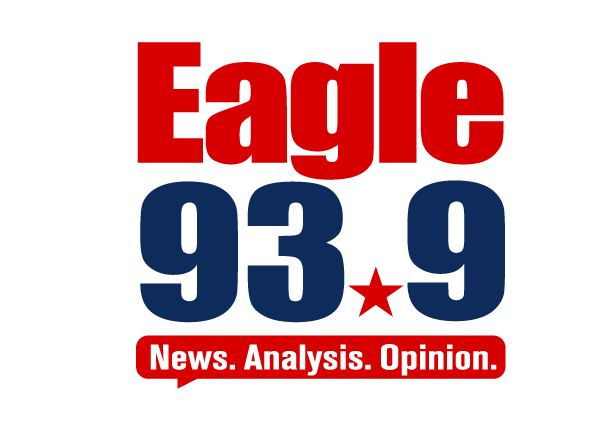 93.9 The Eagle
FORMAT
Hot Talk and Breaking News for all of Mid-Mo.
Features Wake Up Mid-Missouri with Stephanie Bell, Brian Hauswirth, John Marsh, and Hannah the Producer. The Eagle is also home to The Gary Nolan Show, The Glenn Beck Program, The Sean Hannity Show, The Randy Tobler Show, Ben Shapiro, Joe Pags, CEO Roundtable, Columbia Buzz, and the number one overnight radio show, Coast to Coast AM with George Noory.
The Eagle 93.9 is also home to Cardinals Baseball.
FREQUENCY/POWER
20,200 WEEKLY LISTENERS
At 25,000 watts, KSSZ (93.9 The Eagle) reaches Mid-Missouri, from Columbia to outlying cities such as Jefferson City, Moberly, Mexico, Fulton, Boonville, and Marshall.
AUDIENCE
34.1% Female, 65.9% Male
Age 25-64: 63.1%
Household Income Over 50K: 67.5%
Central Missouri Counties
*Source: Nielsen. Columbia, MO. Contact Zimmer Communications for details.
93.9 The Eagle's On-Air Personalities
Weekday On Air Schedule and Personalities
Saturday On Air Schedule and Personalities
Sunday On Air Schedule and Personalities
93.9 The Eagle's Community Involvement
Central Mo Honor Flight – Radiothon

Boys and Girls Club of Columbia – Chili Cookoff

Children's Miracle Network – Radiothon
Central Missouri Food Bank – Food Drive

Easter Seals (Bowling for Autism) – Event
93.9 The Eagle's Accolades and Awards
2022 MBA Breaking News – KSSZ

2021 Marconi News/Talk Station of the Year, KSSZ – Finalist

2021 MBA Breaking Weather Coverage

2020 MBA Complete Newscast – KSSZ

2020 MBA Opinion Broadcast – Branden Rathert – KSSZ

2018 MBA Station of the Year
2018 MBA Convergent Media

2018 MBA Special Programs/Public Affairs

2017 MBA Best Breaking Weather Coverage of the Year

2017 MBA Personality of the Year, Wake Up Columbia – Finalist

2016 MBA Breaking News Coverage "MU Protests", KSSZ

2016 MBA Corporate Award, "Honor Flight Radiothon"
We're in business to help your business grow.
Our efforts are focused on developing ourselves through training and coaching. We accomplish this through an environment where exceeding company standards, continual improvement, initiative and innovation are recognized and rewarded.
Zimmer knows my business. I come up with ideas that I want them to focus on and then I let them do the creative part of it. I'd recommend Zimmer to anybody who wants to go to the next level. Get on a good plan with them and be consistent and just have faith in their recommendations. You will see results. It's nice working with someone who you know really cares about your success.
Not only are Zimmer's services great, but the staff is wonderful. They taught me that I should not spend a single penny on advertising until I'm able to track it and know that it's going to work for me to grow my business. Since I've been advertising with Zimmer, I've seen an increase in my business every single year.
I've been working with Zimmer forever. I didn't expect how many different people I would get to work with. From creative to sales to the radio talent, their process of putting everything together works a lot smoother than you'd think. Obviously, Zimmer does all the stuff on the radio and the live streaming, but they have also helped us develop our website and they help with our Facebook posts. We utilize all of that and I've had a lot of success.
I was on a recent trip to Las Vegas and I was standing in line and a gentleman behind me said, 'I'm from Jeff City. You're the guy from Living Canvas. I hear you on the radio all the time.' I was blown away that my voice was that recognized and I can truly say that radio does get results.
When we first started advertising with Zimmer Radio & Marketing Group, we didn't expect such an immediate response, but literally the same day, we started getting phone calls and were gaining new clients on a weekly basis. The creative group was so good at understanding what Witt Print Shop needed. They nailed my ads to a tee right off the bat with only knowing me for literally 2 hours. I would highly recommend Zimmer to anybody who wants any type of increase in business. Radio advertising works.