KAT Country 94.3FM
FORMAT
KAT Country plays country music with a broad appeal.  Listeners get the perfect mix of today's best country hits, featuring classic country artists, and a mix of today's most popular artists like: Brooks & Dunn, Reba, George Straight, Hank Williams, Garth Brooks, Carrie Underwood, Miranda Lambert, Blake Shelton, Brad Paisley, Luke Bryan, Lady Antebellum, Jake Owen, Eric Church, Luke Bryan and countless others.
KAT Country features KAT mornings with Erin & Cory, middays with JP, Jordan in the afternoons, and the KAT Gold Vault every evening from 7pm-5am. KATI is also Mid-Missouri's Home for St. Louis Cardinal Baseball.
FREQUENCY/POWER
Reaches over 20 counties in Central Missouri, including the cites of Columbia and Jefferson City.
AUDIENCE
56.3% Female, 43.7% Male
Age 25-64: 64.3%
Household Income Over 50K: 56.4%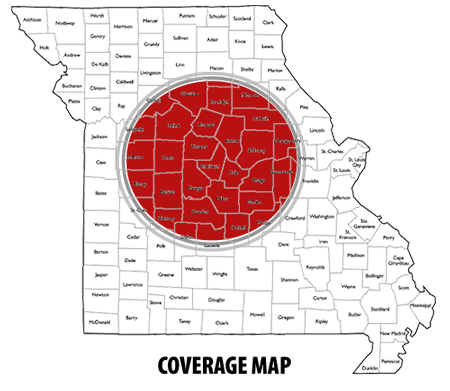 Central Missouri Counties
KAT 94.3 On-Air Personalities
Weekday On Air Schedule and Personalities
Weekend On Air Schedule and Personalities
KAT 94.3's Community Involvement
Heart Ball – American Heart Association – Event
Jefferson City Humane Society – Weekly Interview

American Red Cross Blood Drive
We're in business to help your business grow.
Our efforts are focused on developing ourselves through training and coaching. We accomplish this through an environment where exceeding company standards, continual improvement, initiative and innovation are recognized and rewarded.
When looking to update and do a complete face lift of my web site I looked to Stacey and the guys at Zimmer to lead me into the FUTURE.
Radio advertising had made such a tremendous difference in our business. Zimmer has an all-star team who is completely on target with our needs. They attend every meeting with purpose and with the intention of seeing our business grow. The attitude and devotion they show our business is unmatched and they are genuinely thrilled by our accomplishments.
Working with folks at Zimmer has helped be grow my company to where I wanted. Carrie was great with helping find the correct radio station for my target client. They allowed me to reach my goals faster than I ever dreamed.
There were hundreds of attendee's from across the country. Many came up to Don afterwards and asked how we found the time to manage a really nice website, Facebook and Twitter. Don smiled and said, 'We know people'